About
Identification

_____________
Name: Cheshire
Sex: Male
Height: 5' 6
Eyes: Changes to often to recall
Hair: Purple
Sexuality: Straight
Species: Humanoid/cat
Crimes: Murder, Theft, Cannibalism and the occasion catnapping.
Special Features: Claws, fanged teeth pointed ears and purrs every so often. Has a number of scares along his body either from his own self mutilation or harm from others.
Skills: Invisibility, reshape body, transportation, metamorphosis, Feline Tongue, Feline Mind:whenever something shiny catches his attention or else revert feline curiosity and be forced to check shining object out, despite any obvious danger doing so. Cheshire has always been a master of magic and illusions, he has even practiced at art of conning on many people even going as far as stealing the identity of The Hatter on more than one occasion.


Alice

_____________
Chesh was always a very jealous man when it came to the affection of Alice, when she took the liking of Jervis he was very determined to pull them both apart even going to the extent of posing as either or to create conflict. This soon passed when he grew tired of the game and realized that both had to much conflict to begin with that he need not interfere at all, if anything to redeem himself he tired to smooth the cracks they crated with each other. Chesh does care much about Alice and that of Jervis seeing as he is an old friend and does much to please his friends but most of all he enjoyed spending time with Alice.
They keep me sane:
* Tea
* Books
* Quiet
* Jervis' Hat
* Music
* Alice

I'd kill on sight:
x Anything or one that pulls on his tail
x Rats
x Prostitutes
x Depressing people
x

Some nifty fan art: Thanks to all
By-pr3m0rse

By-cute_luna1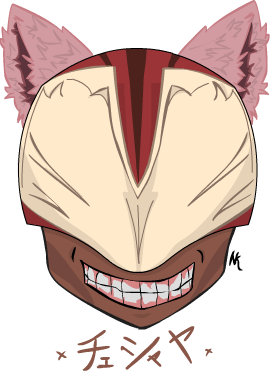 By-onsui
By-Clockwork Thieves
Signature