Morhidia kanibul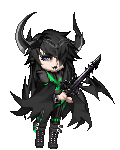 About

↑
**I do not accept random friend requests,
but no worries, I like to talk and if we have a good conversation
I will most likely except your friend request,
but please no friend requests before we have talked.**




This is mostly where you will find me





Hello my name goes by .† Morhidia Kanibul †.
I am a Moody Girl.
If you must know Mori's age 27.
I am rather a jealous with my friend's and family.
I am a b***h depending on the mood I'm on.
I'm not much of a talker more of a listener now a day's.
I'm mostly a loner, and wont say what's on my mind.
I'm only talkative to those I trust.
I tend to speak what is on my mind.
I tend to contradict a lot of the things I say.
I'm creative and can be a tad silly.
I have a rather dark sense of humor.
I love things that are rather grotesque, dark, spooky or 'Gothic'.
I see beauty in the dark!
I find comfort in horror movies and enjoy drawing creepy things.
I love reading a good manga just as much as seeing a movie!
I am also a Graphic Designer, (mainly photo manipulator).
I hate demonstrating my work in photography or my design's.
I learned in College that people love to steal your work mainly
I don't post my stuff.

-_-_-_-_-_-_-_-
-_-_-_-_-_-_-_-_-_
Please .B .U .M. P. the owners thread.

Looking for invite's


Morhidia kanibul ►►Analyzer
invite me to bootygrab

bump
Journal
Kanibul's death list
Multimedia
Signature

Questing your unwanted 4 alchemy and long a** wishlist items:
Need 4 alchemy Mrs. Claws Sweater
Need 4 alchemy - Advocate's 2k14 Hat
Alleycat's Allure
Heart of an Alleycat
Spirit of an Alleycat