Can you feel the storm?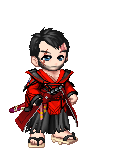 Gender: Male
Birthday: 06/11/1990
Who I am
Hey, I'm Anthony. Well, I'm not a complex person. I'm really just a passive and easy-going guy. I love all my family and friends. I'm 24, and I love video games, especially fighting games.
What I'm Wearing
Wish List
Signature
Life isn't easy. But that's why you have to keep going despite any failures. Persistence wears down resistance.