MorbidMirrors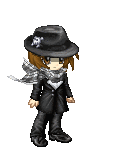 Last Login: 03/30/2013 5:41 pm
Registered: 09/01/2012
Gender: Female
Location: Georgia, USA
Birthday: 07/31/1996
Interests
Favorite Movies/Anime
Favorite TV Shows
Favorite Reads
Favorite Music/Bands
About
Hallo, I'm E.J. & I like drawing, writing, reading, photography, cosplaying, and roleplaying. I am always open for comments, questions, roleplays, or if you need someone to talk to! My cosplays: Austria, Canada, Prussia, Romano, Russia, 2P!Britain, 2P!Nyo!Germany, Vocaloid Meiko, Prof. Franken Stein, and Haruhi Fujioka.
Journal
MorbidMirrors's Journal
Morby writes about stuff!!!