Moke Moo Moo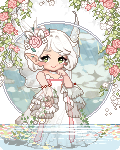 Details
Last Login

03/29/2017 5:13 pm

Total Posts

52521

Member Since

09/15/2007
Gender

Female

Birthday

06/11/1987
---
Interests
About


I joined Nov. 11, 2004 on the account mokemono after a friend in art class kept pestering me about joining this site. I was lucky to have her teach me how to roleplay properly and not be a n00b. I've made many great friends who are dear to me, and over the years my art has improved. I also gained inspiration to start using Photoshop. 3nodding My favorite color is blue, and my hobby is, well, drawing.

I'm not what you would call the smartest crayon in the box so to say, so I never get involved with subjects like politics and religion or other in-depth discussions. I'm very down to earth and open minded, and I don't make a big deal out of things like appearances. I'm also a bit of a tomboy. It's hard for me NOT to be nice or kind, but there are those moments where I do snap at people if I'm in a bad mood.

Well, anyway, during the Summer Festival in September '07 I was hacked by logging into a false login site. So I had to close my shop and considered giving up on Gaia, but thanks to my friends who supported me, and the many people who loved my stuff, I decided to begin anew. When December came around I had gotten my hacked items back. Thanks to the Mods who helped, you're great! =D
The experience served as a lesson for me to be far more careful and aware.

I love spending my gold to buy people stuff rather than spend it on myself. Being generous gives you a warm feeling inside. x3


Disclaimer:
I do not accept random n00b friend requests.

Nor do I post my picture on the internet. >>

Don't ask me for gold or items or art.

Being my friend does not automatically get you free art!





Thank you for buying the Doll for me, starwberryakari! heart


Donators
Art
My dA


If you would like to visit my artshop, click on the link below. :]

My personality in a nutshell (Sort of):








Arts!



Art by Elerina



Art by Milkythecow



Art by H1zum1 (Freebie!)



Art by 18cm



Art by ll Amulet ll



Art by Sleepy Time



Art by Kiwi-cha

Friends
Viewing 12 of 94 friends
Journal
Truly Blue
Curry ftw : D
Multimedia
Signature
Art shop reopening soon!