mizzmerr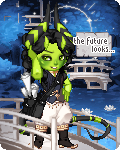 Registered: 03/17/2007
Birthday: 07/13
Equipped List
words
Be who you are:
be different, be extraordinary.
A standard of beauty is exactly that:

standard.


Embrace your body and confidence will follow --
there's no reason to cling
to the illusion of normalcy;
always strive to be
a better person
than you were yesterday.
Love is love is love.
It knows no creed, no color, no gender.
If you're not hurting anyone,
never be ashamed of your love.
Dreams are neither hopeless
nor stupid, nor overrated,
nor whatever reductive thing anyone else in your life
chooses to call them.
Don't put up with hurtful, selfish people.
Forgiveness is good --
but you should also learn to admit
when someone in your life has become toxic.
Life has no inherent meaning.
It's

your challenge

to get off your a**
and decide what you want yours to mean.
If you don't like the way things are,


change your behavior.


Life is about choices.
You are in control more often than you think.
Don't let fear keep you silent.
You never know what anyone else is thinking;
maybe they want to speak up, too.
It only takes one person
to give the rest of them an ally.
Life is short --


it's now or never, baby!