About
Finally realizing I might actually be more beautiful than I've ever given myself credit for.
[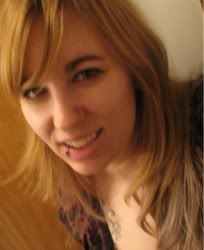 I'm exposed and it's no big surprise
My name is Danielle, Dani for short, or Miyu if you really looooooooove me. I am, le gasp, twenty-five and believe me, I have big plans in life. I just got out of the Army as a linguist. I plan on taking my knowledge and aptitude of languages to a whole new level and major in that for school.
I'm just a girl, take a good look at me
I'm kinda a nut sometimes. I mean, well, I can be serious when I need to be. But I like to have fun. I'm the silly girl that will fall down the stairs with a hamper full of clothes falling after her... Even though I would never know that first hand, of course. -coughs- Or the kinda girl that repeatedly locks herself out of her own bedroom. Yeah. I'll own up to that one. Kinda sucks.
Not your typical prototype
If you can figure out what the bolded lyrics are from, then you honestly get my love. Great band, great band. Anywho, more about me... Ummmm. Damn. Lessee. I'm blonde but I am actually intelligent! I battle the stereotypes, mwahaha! Okay, well I have my blonde moments but for the most part, I do have common sense and I know what needs to be done and when.
Ohhhhhhh, am I making myself.. clear?
Not sure much else there really is. Honestly, if you want to get to know me, send me a message. I'll be blunt and hoenst with you and I'll try not to be a b***h. Buuut sometimes, I can't help it. After all, I'm just a girl. <3
Friends
Viewing 12 of 50 friends
Journal
Miyuki's Memoirs
Thoughts, ideas, or random things may or may not be placed here.
Multimedia
Signature
xxCall me Miyuxx
xxBlondexxPrior MilitaryxxMultilingualxx
xxPretty much the best damn thing everxx