About
Hello everyone~! Welcome to my profile, as you can see, it is quite boring.
So, what is there to know about me? Impossible to fully answer in this section. I've got a lot to say about a lot of things nobody cares about.
I'm an adult, but just barely, and I certainly do not act like one.
I'm a writer and role player, a photographer and an artist.
I play guitar, and am trained in opera singing.
Give me classic rock over anything else though!
I have an affinity for magical/mythical subjects, as well as quantum physics and cats. Completely similar, I know.
In my life I hoped to be a professional studio photographer, but that's just a dream that will never be realized.
I met the love of my life, my soulmate, on Gaia. We're happily engaged now <33
My DeviantArt
"The beauty of a living thing is not the atoms that go into it
But the way those atoms are put together
The cosmos is also within us
We're made of star stuff
We are a way for the cosmos to know itself
Across the sea of space
The stars are other suns
We have traveled this way before
And there is much to be learned
I find it elevating and exhilarating
To discover that we live in a universe
Which permits the evolution of molecular machines
As intricate and subtle as we"
-Carl Sagan, We Are All Connected, Symphony of Science
Happily taken by my sweet Georgia peach <33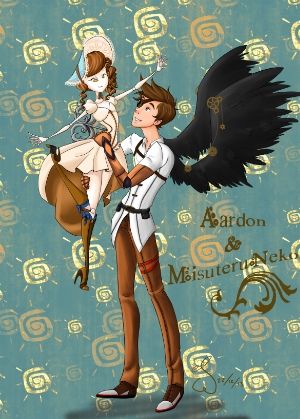 Friends
Viewing 9 of 9 friends
Journal
my second account journal
Multimedia