Is me: Miss_Amaya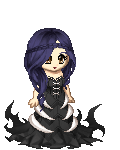 Last Login: 02/26/2016 2:30 pm
Registered: 05/21/2006
Gender: Female
Location: your dreams
Birthday: 09/09
Things that make me smile :
Favorite Movies/Anime
Favorite TV Shows
Favorite Reads
Favorite Music/Bands
Hobbies/Interests
Wish List
Whatcha get untel you take the time to get to know me.
Hey there.
Come one come all to the freak show that is my life. I am a free spirited young woman who loves to rp. I enjoy meeting new people and turning them into new friends.Writing is my escape from reality. I often use it to cope with things in the real world.

Now as far as what to say about me, there isn't much to tell. I try to always be happy. Doesn't always work, but I am the type that would much rather listen to you then talk about me.
People that make me smile
Me and my baby.
Chibi me. Made by Jedesto in June 2010.





My name is Allys, and I am learning life can be a Wonderland.