Miss Mockery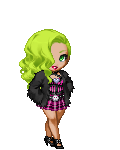 Last Login: 08/28/2015 3:34 am
Gender: Female
Location: Right where I want to be
Birthday: 03/10/1986
Occupation: Loyal Decepticon
About
Name: Kyra Kimberly Masters

Alias: Miss Mockery

Age: 24

Hair: Brown

Eyes: Hazel

Height: 5'5''

Weight: 140lbs

Location: Gotham City

Parents: Unknown (both deceased)

Powers: Shapeshifting

Weapons: Poison tipped daggers, throwing stars (also dipped in poison), a short blade Kanata, and a whip. She also carries small firearms on her person at all times.

Kyra was born with the power to shapeshift and would often use (more like abuse) this power as she got older. She graduated at the top of her class at the age of 17and by the time she was 24 she was robbing banks and blowing up whatever she felt like it. Kyra went to college to dabble in chemistry, technology, and science. She had completed her schooling by the time she was 21. She has a photographic memory which she uses to help her fight against the Bat family. She would memorize their fighting styles and use it against them. Kyra is also a gymnast, who practices and trains hard when not fighting and causing chaos in the city. Being that she has a photographic memory, she can copy mannerisms, fighting styles and much more. Using her shapeshifting ability she is able to replicate any person she sees and meets. Voice, and personalities included. This proved useful a number of times as she would often change into an "innocent civilian" to escape the cops and the Bat pack.

Kyra fought hard to become a villain in Gotham and was dubbed Miss Mockery by the group she ran with. Her outfit consisted of a black and toxic green corset, high heeled black boots, a barely there mini skirt, toxic green and black hair, and a mask. She would often find herself training her group in fighting since they lacked in that area. She was put in charge of making explosives and built a few weapons when needed. But she soon found herself growing bored of the group and struck out on her own, finding it much easier that way. One day she found herself helping the infamous Harley Quinn out of a jam. Now Harley, seeing potential in the young girl, brought her back with her to introduce her to the Joker. After proving herself worthy to them both, they "adopted" the young girl as their own. She was given tricky jobs to pull off but yet she managed to do so with abit of effort. This pleased the Joker, and she found herself running along side Harley for the major jobs.



My Aquarium