misceous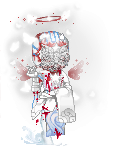 Details
Last Login

09/02/2014 12:35 pm
Gender

Female

Birthday

09/23
---
Interests
Favorite Movies/Anime
Favorite TV Shows
Favorite Reads
Favorite Music/Bands
About
So, I'm 15 years old, my birthday is on September 23rd, and I live in Finland.
I'm quite bi-curious. Still trying to figure myself out. Also single.
Bright, pastel and neon colors are my favorites. But I also like black and white.
Art is my passion. Drawing, painting, singing, writing. They're the things I enjoy spending time with.
I don't mind making new friends. In fact, I guess I would need some.
You don't have to be afraid talking to me, I bet I'm more afraid of you than you are of me!
Feel free to ask me anything, I'm rather open to all sorts of people.
But, enough of blabbing, below are my dream avis. If you give me
anything
listed there, I'll love you. ♥ I'm desperately questing everything in my ever-growing wishlist.

What I Need:
Sparkle Eyeshadow
Lady Unicorn
Light Adrian Hair
Sainte Ciel: Storge
SDPlus #059 Estelle
Aria Dannata
Ascended Demon
Rosamund\'s Devotion
Thoughtful Groom

What I Need:
Cupid Lips
Ascended Demon
Ebon Laurels
Queen Chimes
Froufrou France
Little Law
Compass of Seidh
Lady Unicorn
Sainte Ciel: Storge
Sparkle Eyeshadow
Light Adrian Hair
Zodiacal
The Rose of Fontainebleau
Ivory Rose
The one I'm questing for at the moment is bolded!
Friends
Viewing 12 of 30 friends