About


My real parents were sent to jail when I was five for attempt robbery and attempt manslaughter in the 1st degree. Unless they break out, I won't be seeing them in 15 years. For two years I lived with my uncle and aunt, who were great people, but lived in very poor conditions. Beause of the poor living conditions, I was sent to a foster home. My foster parents adopted me six months later. They have since stopped the foster care program to raise me, and my younger step-brother.

I'm grateful for them, they even let my uncle and aunt visit once in a while when they can. Living in their household as given me a better education. They taught me how to socialize with others, and now I have a fantastic girlfriend, great friends, and plenty of awesome classmates who forget that I was ever adopted. We're all good pals, my mom calls us the TND, or Teens Next Door because there are five of us, and my younger brother used to watch the "KND: Kids Next Door" when the show was on.

We love to hang out, whether it be at the river, swimming the summer away, driving to another city to play, or sitting down and watching a movie at one of our houses for our weekly movie night.
Alone I like to play video games with my brother, sometimes I write, I'll so odd jobs, otherwise I'll go and volunteer at the animal shelter, I walked the meduim size dogs and groom the long haired cats.

I'm 16 now, and I can't wait until i'm 18, I saved up most of my earning from my odd jobs, so when I go to college, I'll have some money to burn through since my parents starting to save up for my college education when they adopted me. Sorry for the rambling, but that's me in a nutshell.
Journal
Should a man even have a personal journal?
This will contain ideas, stories, and most importantly, art I've received over time.
Signature
Save a

horse

, ride a

cowboy

.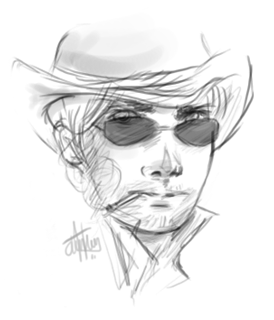 Art by Angelgirl7795
Btw, I'm a rude mother ******** when I'm pissed.