Mio_Mikata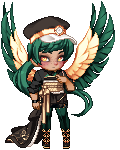 Details
Last Login

10/25/2016 9:34 pm

Total Posts

21248

Posts Per Day

4.37

Member Since

07/08/2003
Location

oregon

Gender

Female

Website
---
Interests
Hobbies/Interests
About
Name:
Mio, Michelle, Nycto, Gremmin
Age:
Old Enough
Location:
Cebtral Point, Oregon, USA
hobbies:
Art, School, Mallrat, writing, internet, html, css

The world is ending! Well to start it off I'm an Adult (a lame one) with a job (lame job) Who lives with my...interesting yet annoying boyfriend (I love him so) We've been together a rocky 3 years. I'm currently stuck in Southern Oregon...please save me.

On gaia I usually am trying to promote the b/c I'm with, give away free art or advice, and lurk the GCD. I'm an ex-ATer who got tired of matching and now 2/3rdsmy inventory is going to waist. You can sometimes find me playing Zomg or in the exchange selling off my worldly possessions hehe.

If you'd like to commission me, feel free to pm!
I don't accept random friend requests, sorry.
Friends
Viewing 12 of 22 friends
Journal
OMFG
LYK OMFG
uhm... figured i should use this thing
Signature
-+-
Go ask Alice, I think she'll know.





YOU WANT ART!
---
DeviantART
---
Gaian since 07/08/03
Inactive/Hiatus/The Cash thing killed my will to be active here.