minkarisc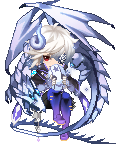 Last Login: 05/25/2015 3:24 pm
Location: Northeastern United States
Birthday: 06/30
About
Welcome to my page!
(ノ◕ヮ◕)ノ*:・゚✧

I'm not lucky (or unlucky) enough to have an average name, and chances are you won't find another person with it. To put it simply, I'm the girl named Mark. But please, use my username or simply "min" instead!

I guess I'll start off by saying that I'm twenty, I cosplay, and I have no clue what I'm doing with my life aside from living it.

If you have a like for video games, anime, and manga then guess what? We have something in common! I also like drawing, but I haven't picked up my sketchbook for far too long. With my mind being a jumbled mess things just don't seem to come out right ._."

But anyways, if you feel like talking to a semi-shy goof like myself just shoot a PM my way!