Mimirelle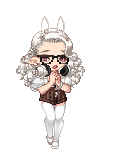 Registered: 09/14/2006
Gender: Female
Birthday: 09/10
Well what can I say about myself...I'm a pretty calm person, easy going. Depending on the mood in either really quiet or can't shut up, also I'm a horrible conversation starter. You could say I have a bit of a split personality, sometimes I'm serious other times I just plain goof.

I like to roleplay, be it themed or having to use my own RPCs if they are relevant to the RP. I'm a little rusty on this department, so any pointers are highly appreciated,

If you wish to talk to me you can drop me a comment or pm me.