MikoTanpopo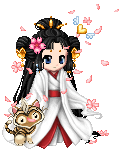 Last Login: 01/24/2016 8:37 pm
Registered: 01/02/2007
Gender: Female
Me likes.
Favorite Movies/Anime
Favorite TV Shows
Favorite Reads
Favorite Music/Bands
Hobbies/Interests
The one known as MikoTanpopo.
Hmm...
What to say?

My name is Holly.
I'm most likely older than you...
I am single and not looking.
I like to read.
I like most animes, but I am not one of those freak-out fans. Unless you bring out Sailor Moon, DragonBall Z, or Inuyasha.
I've been on Gaia since 2003, but this avatar I've had since 2007. I lost the passwords to my older accounts.
I can never save up enough gold.
Umm..that's all for now I suppose.
Read me.
My Success in the Gaian World.
Tehe. I'm pretty weird, but I prefer to be called a freak. My journal is just a journal about probably what I've done or if I'm bored and whatnot.