Mihorin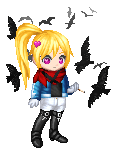 Last Login: 06/09/2015 5:18 am
Registered: 06/09/2006
Gender: Female
Location: FL
Birthday: 12/27/1991
Equipped List
Interest Tags
Favorite Movies/Anime
Favorite TV Shows
Favorite Reads
Favorite Music/Bands
Hobbies/Interests
Wish List
About
Hello.. It's a pleasure to meet you.. Don't worry.. I don't bite..
I stab a relatively long sharp metal straw and suck out your blood and soul..

I'm just kidding.. But.. Maybe I'm not...?
Journal
The History of Psycho Raikoh.
This will tell you of my characters history and description!