~Michiko Mint~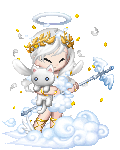 Details
Total Posts

14388
Location

British Columbia, Canada
---
Interests
Hobbies/Interests
About
My name is Marisa, you can call me that or Missy or Mint, whichever you prefer. I am 22 and I live in British Columbia, Canada. I've got my own place, which I share with two cats and a 72 gallon saltwater aquarium.
I mostly spend my time hanging out on Gaia, or working, but I also really enjoy video games, anime, drawing and baking. Oh, and sleeping. That one might be my favorite.
Gigant Abraxia
is pretty much the most awesome person ever. She is my rl bff and waifu, we spend every possible moment harassing each other and I wouldn't have it any other way. The rare and painful moments we spend apart usually involve planning the next time we will again be as one. Oh but she has a husband and stuff so it's platonic.. I guess.
On that note, I am actually straight, and single, both which I enjoy.
My Gaia time involves either BJing it up, fishing, exchanging, hoarding s**t or chilling in my
quest thread
. You should probably stop by and say hello, we don't bite! I am always questing something, with my end-game goal being Angelic Minis.. of course. I will own them someday, with much help from
THG
which taught me everything I know and is pretty much the most awesome guild ever.
I'm a pretty friendly person and am cool with random PMs and stuff, but I don't like random friend requests unless I've talked to you before, however briefly. Begging for stuff or asking for donations is a fantastic way to get on my blacklist.
Multimedia
Signature
♥ Questing all the Things♥
and
Fishing all the Fish!

★Always collecting inks, bugs and fish★

I tend to post and leave, please quote me for a response

We are the Canadian Borg. Resistance would be impolite. Please wait to be assimilated. Pour l'assimilation en francais, veuillez appuyer sur deux.