miaou de la folie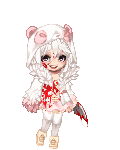 About
i'm miaou. (yes a french kitty's meow)
call me meow, miaou, appa, ichi, or whatever you come up with
hell, call me scooter if you want. my unit does.
twenty. college. arng and rotc. majoring in engineering,
so if i'm busy or away a lot, that's why.

Journal
苺さんのジャーナル
Multimedia
Signature
SOMEHOW--
the cosmos says math makes sense.
my brain just does it, understand it does not.


xxxxxxxx

always on dat hiatus yo.