About
Hi! My name is Merriara, and just to let you know right off the bat, I'm a grammar freak. Therefore, please use correct grammar/spelling when you're talking to me. Other than that, I like to swim, read, play with my pets, and have a good time, mostly. I'm in the band at our school, and I play the oboe along with several other percussion instruments. If you'd like to know more about me, feel free to comment or PM me. <333



[align=center]

Update: I'm a very infrequent visitor now, but life has taken me elsewhere. I am now a senior in high school, though I'll graduate May 26. After graduation, I plan to go to Washington University in St. Louis, and most importantly, find out who I am and be happy. I'll come back and post when I can, but I can't promise it'll be often. However, PMs and comments are still nice--I'd like to hear back from people I haven't talked to in ages.
Oh, and for any of my friends who might be wondering what the hell happened to me...I'm going to a boarding school for the next 2 years (rest of my highschool years), but it doesn't allow 'social networking sites' like gaia or facebook. ._. I'm sorry, and I'll miss everyone so much. (but I won't be gone for forever. Oh, no--I'll be checking my accounts whenever I can.)
My 1st Guild Anniversary Picture!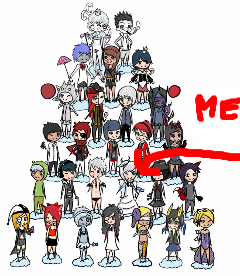 ][/align]


●●●

stop

and watch the fake plastic stars

t u m b l e

●●●
「___」
●●● out of my midnight sky of blues and gold ●●●
ᴀαɐลäĄåΛ ßβ ¢ςçϾ ᴆ∂Đ єəεЭҽ ƒϝ ǥɢ ђнħĦ ỉίιΐ _ кК ιᴌℓ£⌊Łʅ ṁмɱ ηɳи σδôθºợø φρƤ _ яʀЯ ş§Ş τʇţŦŧ μџȗūυЦ ѵ ωЩŴ χ чϒץ
ι нα∂ ѕωσяη тσ муѕєℓƒ тнαт ι'м ¢σηтєηт ωιтн ℓσηєℓιηєѕѕ
вє¢αυѕє ησηє σƒ ιт ωαѕ єνєя ωσятн тнє яιѕк
╔══╗♫
║██║
║(o) ♫ Music is everything ♫
╚══╝
Rest in peace, granddad.
--April 16, 2010--
from:
-->

When it rains,

don't wait for someone

to hold an umbrella

over your head.





We are all capable of holding our own.

<--



◌●◌●

__________

dear someone,




i bleed words

(they're the only things i feel these days)

.

life is a chess game, but i've

lost my queen

. life is an ocean, but i never

learned to swim

. life is a battle, but i'm

too tired to fight

.




there isn't anything

worth fighting for

, anyway.





●◌ 『

__________________

』 ◌●

(words from

letters from no one

by amertie)






i paint shadows on my heart just to

fill the empty spaces.

the sad thing is,

i'm still left hollow inside.




and i've decided that everyone has it wrong. see, they go around pretending things will

get better

and they'll

make it through this

and

everything will be fine

.




except there's

no guarantee

that it will.




because life is not a nightmare.




the nightmare is life.

__________

◌●◌●
Friends
Viewing 12 of 44 friends
Multimedia
Signature


●●● stop and watch the fake plastic stars t u m b l e ●●●
「Life is something to cherish, and no one has the right to stifle it, no matter who they are.」
●●● out of my midnight sky of blues and gold ●●●