Meme Mage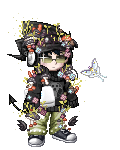 Details
Last Login

05/29/2017 1:35 am

Total Posts

3877

Member Since

05/18/2011
Birthday

03/29/1995
---
Interests
Favorite Reads
Favorite Music/Bands
About
Feel free to PM or add me, if you'd like.

I have a lot of different interests, though the most apparent should be playing RPGs. I also like watching anime, chatting, and reading. I love to read on all subjects. I especially like philosophy, horror, and non-fiction.

I listen to lots of different music, 99% of which may be called "indie." This ranges from hip-hop to metal to folk to downtempo. I love to talk about music and am always eager to be given suggestions.

"If you don't know where you're going, any road will get you there."