Mello Meister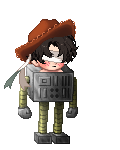 About

17, Junior In Highschool
Hint: Sunshine State [EST]

I can be nice, mean, or even just silly on

all

certain occasions.
I don't go on much so you will most likely not see much of me around here, unless I'm uber bored to the extent I have nothing productive around me to do or i'm just procrastinating the hell out of some form of work that has to be done. If thats the case you'll see me in Zomg 95% of the time im online.

tumblr
/n***s