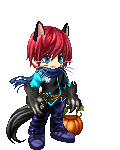 Last Login: 06/05/2013 4:07 pm
Gender: Male
Birthday: 07/03
Equipped List
Interest Tags
Favorite Movies/Anime
Favorite TV Shows
Favorite Reads
Favorite Music/Bands
Hobbies/Interests
Wish List
About
I'm an anime fan who likes to write, doodle, play video games, and read manga!

I've got red hair, often wear darker clothes, and am an up-and-coming actor majoring in theatre arts with the aspiration to become a successful voice actor one day.
My Aquarium
Journal
Bloo's Thoughts
This is where I'll go to write pretty much...anything. Thoughts, feelings, reviews, etc.
Signature

Apples & Angels