♚ megiemu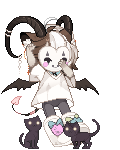 Birthday: 01/13

Привет меня зовут Мейг! Я русский-американец.

Hello my name is Meg, and I am a pixel artist! I love pixels and avatar based sites! You can usually find me browsing the art forums here or hanging out in my chibi art shop!
I also collab animations on Youtube! Feel free to message me!


ℳєgіє