Me C: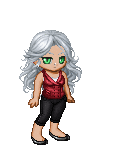 Last Login: 01/11/2011 12:17 pm
Registered: 02/17/2007
Gender: Female
Equipped List
Stuff I like
Favorite Movies/Anime
Favorite TV Shows
Favorite Reads
Favorite Music/Bands
Hobbies/Interests
What I want
About
Hello all! It seems you have stumbled upon my profile. (Either that or someone pushed you...) But anyway...

So about me... I'm your basic nerd who loves reading, videogames, my computer, and Star Wars.