Master Kanaka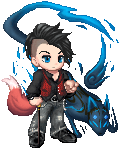 Last Login: 10/02/2016 9:17 pm
Registered: 02/17/2004
Gender: Male
Location: Winter Park, Fl.
Birthday: 01/16/1985
Occupation: Freelance Editor, Script Writer, Director, Art Director
Equipped List
Interest Tags
Favorite Movies/Anime
Favorite TV Shows
Favorite Reads
Favorite Music/Bands
Hobbies/Interests
Wish List
Forums
Posts per Day: 1.79
Total Posts: 8455
About
I'm not one for giving out my name without conversing first, but I will say this, I am a cuban and was raised in Miami. I am a huge nerd, with my loves ranging from gaming (table top and video) and anime to manga and comics (love Spiderman). Literature, Music, Art and Film are all sources from which I draw inspiration. I can just as easily sit down and watch a Takahashi Miike film, then sit down and listen to some Arturo Sandoval.

Whenever I have free time, I'm usually trying to be creative by writing, editing or messing around with Vectorworks and/or After Effects. If I'm not messing around with a program, I try to read as much as I can.

I am also in a very committed relationship, ella es mi amor, mi corazon y mi vida. She is mi princessa y mi reina, I love her with all my heart.
Journal
Kanaka's Journal
My journal will be a collection of my innermost feelings and thoughts, thus expect a vast majority of depression, darkness and anger. Though despite the darkness, there will still be bits and pieces of happiness included.
Signature
"Ours, is a world of Nuclear Giants and Ethical Infants."
Add me on skype: kanaka177