About
Hello! My name is Adrianna. I am old. I live in Canada.
I have been a member of gaia since December 15th, 2003.
The main purposes for continuing my membership on this site include: Nothing.
Thank you for wasting your time reading all of this and have a grand day.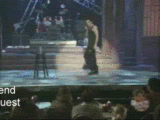 I am not fond of random friend requests.
Friends
Viewing 1 of 1 friends

Signature
[b:ffc850851e]Artist: Who the hell is bucky[/b:ffc850851e][/size:ffc850851e]
[img:ffc850851e]http://i.imgur.com/yV4e2oc.png[/img:ffc850851e]