make jelly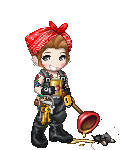 Registered: 12/27/2009
Location: Jew Nersey
Occupation: student
Wish List
My name flops. I'm 19 turning 20 in a few months, that seems so surreal when I type it out..
Oh Satan.. what have I done with my life.. I live in NJ.
I enjoy movies, drawing, and listening to music.
I'm a nice person.
These "about me"s are such hassles.



comment
Forums
Posts per Day: 2.57
Total Posts: 4679