Maja81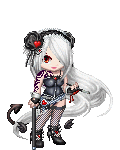 Details
Last Login

09/17/2013 12:57 pm

Total Posts

92726

Posts Per Day

25.84

Member Since

03/28/2007
Location

Currently in Canada

Gender

Female

Birthday

06/02
---
Interests
Favorite Movies/Anime
Favorite TV Shows
Favorite Reads
Favorite Music/Bands
About
If you wanna know anything just ask =P
Note
// I do not add random people to my friends list...
if i don't know you or haven't chatted with you i won't accept your request...
Likes
// sunsets, nature, rugby, dogs, camping, taking long walks, hiking, the beach, traveling, art, music, movies, shopping, scary movies, action movies, disney movies, pillow fights, snuggling, cuddling, handcuffs, sexy clothes, red, black, thunder, lightning, being lazy...
Dislikes
// liars, cheaters, disrespectful people...
Lists of commons wanted can be found in my journal
Journal
...
Signature

Quest // Art Request // Charity
Please bump here when I glow: (reply box)