Magica Royale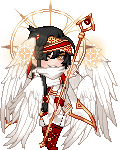 Friends
Viewing 12 of 65 friends
Journal
Art, Fandom, and Shenanigans.
Just a place to stash artwork, gifs, my own personal creations, and things of the like.
Signature
Call me Royale. ♔
22/Pansexual/In Love/Does Art/Genderqueer/a*****e.
I like to roleplay with people who aren't brain-dead illiterate slobs.
You can usually find me in the CB, AF, or WG.

Hardly ever on this trashbin these days.