Magi Tilt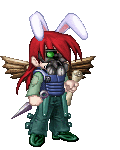 Last Login: 12/27/2012 4:12 pm
Registered: 06/25/2007
Gender: Male
Equipped List
Interest Tags
Favorite Movies/Anime
Favorite Reads
Hobbies/Interests
Wish List
About
Hi. I'm Cactuar-no-Jutsu [aka Magi Tilt]. I'm about as deep as an imaginary pool, but I lie well enough to cover it up. Don't expect anything fancy on this page: I'm tinkering with a few sites profesionally so I'm up to my neck in pissed-off-for-money, and not needing any pissed-off-for-free.
Journal
[Cactuar-no-Jutsu]
The ink- and electron-based rantings of a young old man as he reflects on a not-yet wasted life.
Signature
systemSounds.beep.play() invites me. Hear it not, Duncan, for it is a knell that summons thee to heaven or to hell.