MadHatterzMouse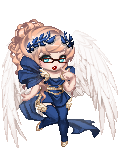 Details
Last Login

01/23/2017 10:37 am

Posts Per Day

7.32

Member Since

11/24/2007
Location

Pre-Cambrian

Occupation

Hunter/Gatherer

Birthday

09/03
---
Interests
Favorite Movies/Anime
Favorite TV Shows
Favorite Reads
Favorite Music/Bands
About
About Me
Well, I'm a sci-fi person, and I work anime/comic conventions on the side. Currently I've graduated college, but may go after I get some of the loans paid down. Currently just working a boring office job till then. I'm pretty quiet actually, which is why I use Mouse or Mousie (as some refer to me). Life is pretty boring right now so I tend to be on more often than I used to be.
I am a known and notorious gifter of items to random people here on Gaia... so beware, one day you may be my next victim. <3
Description of me from a friend here:
"The rare winged mouse~ Surviving in the wild upon mild vegetation and the souls of the RIGs she destroys."
Places I can be found:
Davidicus Von Helson\'s Prestigious Quest
The Land of Ooo Hangout Thread
YYH Club (peep!)
Current Profile Art By: kennymap Art Shop Found Here
Signature


-



-



-
GLOWING? Bump HERE