About
Macaroni Soup, also known as, xBabycutex
Craves for: Thank You Letters (any)
Status: Doing DTTPAYs most of the time/
Selling my hoardings from last year
"Everything happens for a reason."
"It is better to have loved and lost, than never to have loved at all."
"I would rather have had one breath of her hair, one kiss from her mouth, one touch of her hand, than eternity without it.. one."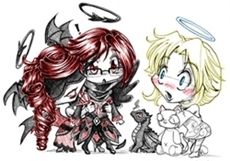 Girls are like apples...the best ones are at the top of the trees. The boys don't want to reach for the good ones because they are afraid of falling and getting hurt. Instead, they just get the rotten apples that are on the ground that aren't as good, but easy. So the apples at the top think there is something wrong with them, when, in reality, they are amazing. They just have to wait for the right boy to come along, the one who's brave enough to climb all the way to the top of the tree. - Pete Wentz
"If california girls are unforgettable, then Filipina girls are worth dying for."
"Let your smile change the world, but dont let the world change your smile."
"A woman's heart is a deep ocean of secrets."
Friends
Viewing 12 of 171 friends
Journal
My Little Reminder
Cherish the little things
"Courage is not the absence of fear, but rather the judgement that something else is more important than fear." - Princess Diaries.
Multimedia
Signature
Quote me for response
cнɛяιƨн тнɛ ℓιттℓɛ тнιиɢƨ: α Ǫʋɛƨт Ƭняɛα∂
"Courage is not the absence of fear, but rather the judgement
that something else is more important than fear."
- Princess Diaries