M e i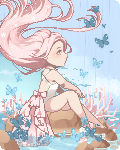 About

Mei was a lurker who rarely posted. Then she discovered the Word Games forum. She likes the colours pink and red, butterflies and kitty cats, chocolates dolls, and apparently referring to herself in third person. In her free time she writes, listens to music and watches too much television. She is currently attending university. She is not going to tell online stalkers where she lives. </3

random fact: "meimei" in mandarin means "little sister". This has nothing to do with Mei's name. Mei has no siblings. Mei is also a psychology student, and completely not bothered by how you choose to interpret this information.

For all you know Mei is really a 46-year-old Russian man.

She

He has cameras installed in your bedroom.


Signature

Thank you to my fellow TLA/LOK fan for all your generous gifts and also for your very kind comments. I wish you all the best in your life outside Gaia