Signature
SANITY LOADING...
██████] 99%

ERROR! UNABLE TO LOAD
PROBLEM: MIND UNSTABLE
Lynzinitus5696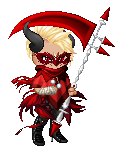 Last Login: 12/26/2014 6:19 pm
Gender: Female
Birthday: 01/21/1993
About
What's up? I'm Lynzinitus, you can check out my other pages here:
http://lynzinitus.deviantart.com/
And here:
http://lynnzinitus.tumblr.com/

My Deviantart page is mostly for my OC's and a bit of fan art. Somehow my Tumblr went from that to being a Resident Evil fan shrine for Albert Wesker.
So if you dig villains, macabre monsters, and a bit of Combichrist on the side; come check me out.