About
[View Journal]

I <3 Reporting Lol. Gcd really does need help.
I am an anime tart. I love animals I have two Parakeets. I Read a lot, Play my DS, I love Pokemon. , And am addicted to ACWW. I live in Florida,..
I'm usually on Gaia on my Ds or my Fat Computer. While I'm not on Gaia I am a Nurse I work by ordering people around and picking up phone calls. Right now I'm going for my RN.
Gaia?
I joined Gaia in August 2004. You probably see me around Towns.(Which I need to spend less time on)
I'm usually busy Pming Mods with misplaced topics when the boards gets too spammy.
Use the report button. Lol
If you have a question about Gaia please ask me or Make a Topic here.
Q&A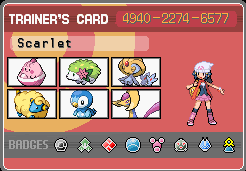 Journal
Scarlets Pokemon Adventure
A brave trainer takes on the world of Pokemon in the Sinnoh Region
Multimedia