Luziko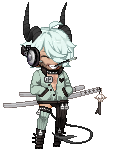 Details
Last Login

12/21/2014 5:18 pm
Birthday

02/04
About
Luzi l 24 l Taken l CA

Hobbies: Video Games, Anime, Cartoons, Movies, Music, Reading

Not gonna right a whole lot here about myself
but in general I'm a pretty nice person
once's you have gotten to know me.

Please do not add me without talking to me first. Thanks!