About
I give you my heads up:

Mom found out her husband was cheating and he wants to leave and might do so but he still has to help pay off bills (if he leaves I doubt he really will). Anyway he is in charge of internet and my phone so if I'm gone for long time its because of that. School I only get one change to be on computer unless I go to library but I dont' stay long enough to do so and it seems the computers are filled all the time anyway..
-.-

I don't know when or if it will happen she maytalk him into stay so probably won't lose net but we will see.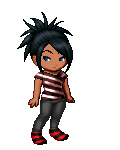 Birthday: 01/09