My Playlist
You currently have zero playlists!
Likes/dislikes
Favorite Movies/Anime
Favorite TV Shows
Favorite Reads
Favorite Music/Bands
Hobbies/Interests
luna-spiritu-solis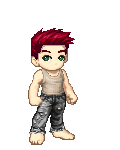 Last Login: 02/16/2014 7:14 pm
Gender: Male
Birthday: 05/08
Welcome to the Asylum

Welcome to hell, indeed.
Hi, my name's Tyramados Vallethnin Ogome, or for short, Tyra.
I'm a very opinionated young woman with a rather fiery temper and cocky attitude. I don't like people very much, and generally will avoid contact with people as much as possible.I tend to be quite a bit of a b***h and sometimes enjoy behaving as such. I do not tolerate small mindedness (thinking inside the box), ignorance, belligerence, know-it-all's, and sex addicts.
On the lighter side of the black though, I can be a very calm, easy going, kindhearted, and entertaining person to be around. Though, you only get to see that side of me if you can find a way to worm into my affections, which generally, does not happen, and if by chance it does, you'll never know.

My interests are reading, writing, singing, playing piano, drawing, and smoking. I spend a lot of my time, reading while chain smoking, and writing down important information from the text. I don't mind conversation or even debates, but I will not sit around and have an argument for lack of better entertainment. As I said, I don't like people, so, generally discussion turns into an argument.

I can not say a whole hell of a lot more about myself, but if you would like to get to know me, send me a request or a PM.
Thank you

Haven
A place to hide, a haven
My journal will be my safe place, pages with me all over them, a place where I can be honest without fear.
Dream Avi


Allusion
What I want