About


()() ()()
( ..) (.. )
John & Sammie

Lucifiric Acid
------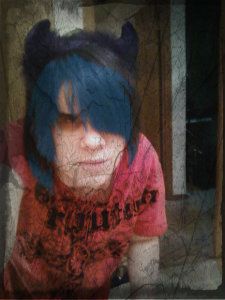 Name:

Sammie


Age:

26


Height

5'6'


Weight:

135lbs


Birthday:

October 15, 1987


The story of my life:


I was diagnosed with cancer as a newborn and had to get my left eye removed. I have a replacement glass one now. Thank you for cool emo hair to hide it!! Haha.
There's a man in my life that means more than anything and makes me happy.


Status:

Married


Signifcant Other':
John <3
Likes:

nice people, marshmallows, cooking, playing video games, drawing, making manga, and hanging out with friends.


Dislikes:

Hateful people, People who try to pry me away from my love, licorice, when gaia ******** up, when people ruin my role plays, Over religious people who try and convert you, conceited people, people who lie, people who cheat or accuse you of cheating. the ones who try and make themselves seem like they are the bigger person when they were at fault from the start,


.:':.:':.
Sammie
-n-
John
.:':..:':.

Journal
Cherub Pince
This is the manga storyline I have been developing on the past few months. I hope that you like it and give critical criticism and helpful hints! Thanks for reading I hope that you enjoy!!~
Multimedia