Lonely Compromise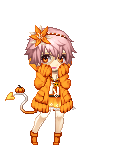 Last Login: 07/21/2014 2:43 pm
Gender: Female
Location: Lala land
Birthday: 09/19
Occupation: chasing paper
Equipped List
Interest Tags
Favorite Movies/Anime
Favorite TV Shows
Favorite Reads
Favorite Music/Bands
Hobbies/Interests
Wish List
About
Name: Manka
Age:16 about to be 17
Livin:In a house
Location Japan
Town name:Tokyo
About: I curse like a sailor. I hate when people bs. I'm 5'10. I'm Japenese but English amuses me so I prefer to use English. I hate dressing up. If I have to its usually knee high neon converse with a knee length dress. So if y'all wann know anything else jus pm me.

Signature
I was told nothing is more beautiful then love...... But me? I think there's nothing more beautiful then hate.