Lolita~Samurai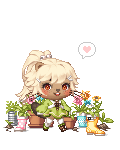 Details
Last Login

03/05/2014 7:32 pm

Member Since

07/01/2006
Occupation

College Student/ Art Major

Gender

Female

Birthday

10/31

Website
---
Interests
About
19 year old Social Sciences Major living in the dorms.
Loves to lurk on the GCD and AT.
Frequently draws avatar art and always looking for good avatars to draw.
I don't bite so feel free to drop a message any time!
Journal
the innerworkings of a sychopath
poems i write and ramdom thoughts im thinking
Signature

Puuuuuuuuuuursona!