About
It's Something They'll Never Really Know.
Because Broken Hearts Never Show
The harmony of the Universe depends upon an eternal balance. Out of the struggle to maintain this balance comes the birth of Legends
Don't friend request randomly.
Name: Syn
Age: 23 [Much Older In Spirit]
Gender: Female
Martial Status: Complicated
Mood: Stressed
Sexual Preference: Bisexual
Title: Polite Pervert
Heritage: Native American, Asian, German
Piercings: Lower Lip Once Twice, Left Eyebrow, 4 Gauge In Both Ears
Tattoos: A Heart, Right Shoulder, Autumn Tree Upper Left Arm,
Mic With Notes Right Upper Arm
Height: 4'1 1/2 [I'm A Dwarf STFU]
Weight: Around 90 pounds.
Favorite Music Genre: Metal
Favorite Color: Black, Red
Favorite Pastime: Roleplay
Hobbies: Art, Photography, Music, Reading, Karaoke, Modeling
Occupation: Photographer, Writer
Extra: I abuse substances, but not my life.
F.Y.I If you seek to know more, ask.

Great piece of avatar art by JennyFra. This artist is amazing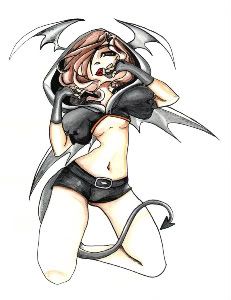 Another great piece of avatar art by Decafe Coffee. Splendid!

The Thread Where I Help You Achieve Your Dreams.


Journal
The Cynical, Clinical And Downright Creepy
Random Prattle
Simply straight-forward, Simply Honest, Simply Me.
Multimedia
Signature
Do
my boobs
bother
you?
Oh
well.
Too
bad
.
Proud
Pervert.
Always
RPing.
Supporting
Erotic
Art
Always seeking
Literate
Roleplays. Inquire via
PM
Add me to yim
thesynnerdivine
Let me
know
who you
are
.
I
<3
random pms
Crush On Me?