LittleMissNotSoPerfect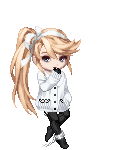 Birthday: 12/22
Hello.
You can call me Kristen, LMNSP, LittleMiss, or LittleMissNotSoPerfect. Or whatever floats your boat.

Now, show some respect, I am officially taken. My boyfriend, Richard, and I are still going strong. We have a pure bred German Shepard, Nita, and she is our baby. (:

Any information that is not listed or posted somewhere else in my profile is obviously not public. If you have any questions feel free to message me.

Thank You.
Signature
Then ask me what it's like to have myself all figured out... I wish I knew.
Wish List