YourRuler/Master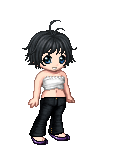 Me,Me,andMoreMe.GetThePicture?
GirlyChik: Like OMG!! I <3 Pink and Glitter!!
Me: *Hits GirlyChik* (do not judge me, judge my fist)

Now, what can you gather from that?
Anyway, I'm Ann and I live on the planet Earth and I dig everything awsome. My color is red. And I love tigers, white, striped, polka dotted, what ever. I used to play soccer, now I swim. Brains is my category, dumbness is yours, I am pure sarcasm, smarts, and awsomeness. I can't live without air, food, and water(duh). And I am insane about Harry Potter, I'm not in love with him, but I love the books. If you need anything else, comment. And since I'm this cool, you would want to be my friend, so add me. If you find out any more about me, that would qualify as stalking.
WhatICan'tLIveWithout
Favorite Movies/Anime
Favorite TV Shows
Favorite Reads
Favorite Music/Bands
Hobbies/Interests