Lily_Ellen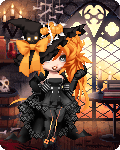 Details
Last Login

03/10/2014 10:47 am
Birthday

08/11
---
Interests
Favorite Movies/Anime
Favorite TV Shows
Favorite Reads
Favorite Music/Bands
Hobbies/Interests
About



Hello!
I'm Jessica.
I'm married.
No kids, YET!
I want four but he wants two.
We'll see who wins that argument!
We do have a puppy who gets oodles and oodles of love.
Him name is Bandit and he's 9 months old.
I hate taking pictures! XD
[Me and my puppy]
[My darling Alec]
[Tektek Gallery]
[My Store]

[~Loves~]
Pokemon.
Minecraft.
Anime & manga.
Game of Thrones.
Walking Dead.
Batman.
Movies.
Sleeping.
Clothes.
Shopping.
Hockey.
Freebies.
My husband, Alec/Ashall84
(he doesn't play anymore sadly)

[~Hates~]
The way people walk in flip flops.
Jerks who take up 2 parking spaces.
Women who wear too much perfume.
Cutesy intentional misspellings.



Journal
Tektek Gallery
Hello! This is my tektek gallery. I LOVE making tekteks but I can't possibly afford them all so I'm going to start keeping them here.