ME!!!
Well, my name is Jen im 17. I have a passion for music and poetry. I live in Oregon and I'm a band geek at heart. I love animals but I'm not a PETA person. I just like to be random and have fun without drugs. So add me k bye
Lil Yaug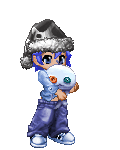 Last Login: 07/29/2008 9:16 am
Registered: 12/22/2006
Gender: Female
Location: Oregon
Equipped List
Interest Tags
Favorite TV Shows
Favorite Reads
Favorite Music/Bands
Hobbies/Interests
Poems of Doom
Lil Yaug's Poems
My Journal is filled with poems I have wrote. Im sure it will be totally packed since I have over 40 poems.
I hate you in that "cut off your head with a toothbrush" kind of