About
I'm Lisa.
I am twenty years old.
Comment because I like to talk to people I dont know.
Hmmm but if your comments are set to private I can't respond!
I play League of Legends (Cutie Bot)
I'm super into support Sona and Nunu.
I play World of Warcraft
(Wyrmrest Accord - Horde/ Moon Guard - Alliance)
I roleplay and have 90s on both ♥

Jake is the love of my life♥
We've been through a lot together and learned a lot about each other along the way. He completes me, and I don't know what I'd do without him. He has his flaws, as all humans do, but to me he is absolutely perfect. I don't know what I'd do without him and I appreciate every moment that I spend with him.
We've been together for almost three years.

I'm usually on towns or whatever idfk.
I do the draw yes.
Art Blog.
Personal Blog.
I'm 5' even, aries, favorite color is pink, hate heights and spiders.
My skype is Lisavannabanna.

I roleplay~ Though I generally do all of my rping on WoW these days, I would still be up for doing an rp here with my Vampiress character, Lidreana.
Lidreana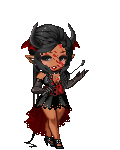 Gender: Female
Birthday: 04/04