About
I suppose you want to know all about me, yes? Why else would you venture to such a place as this when you could be applying yourself to more fruitful pursuits. Well, as much as I love to talk about myself and my many successes over the years, I believe I will simply leave you with a short profile about me written by an esteemed colleague of mine--before I killed him. Hehehe... Be thankful for this, I usually don't waste my time with such trivial things.

----------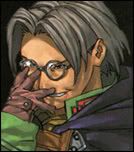 Name:

Lezard Valeth


Age:

Unknown (he looks to be in his mid-20's)


Gender:

Male


Occupation:

Vexed Magus, Alchemist, Corrupt Sage


Current Location:

Unknown



Appearance:

A male young enough to have fire in him and old enough to have experience, Lezard distinguishes himself from the crowd by the riotous sound of his oft-heard laughter and the ravenous hunger of his eyes and smile. He is dressed in practical brown work clothes with a green jacket and dark purple cloak, topped with the heavy belt pouch setup for one who expects to be able to find or use trinkets at a moment's notice. Being ill-prepared is never a problem for him.



Personality:

Stable, pleasant of temperment, quite social and a darling to have at parties - all these things, Valeth is not. He is arrogant, vain, and yet dangerously in control of his own intellect in a manner which could be fascinating were he any less inclined to turn on you and find you fodder for another immoral experiment.



Summary:

"He is an accomplished alchemist and a practitioner of the dark art of necromancy, among other things. Behind his placid facade lies a mad genius who feels that all others are merely pawns to be played on his own handcrafted chessboard."



Lezard is brilliant. At the Flenceburg Academy, he was at the top of his class until he was unfortunately expelled after the headmistress grew wise to his immoral practices. He dabbled in dark magics and eventually became a master necromancer, engineering wars to collect bodies for his experiments. At some point he gained control of the fabled Philosopher's Stone, the "ten-billion-page codex" that allowed him to see the secrets of stars and gods. After crossing paths with a dimension-hopping kyuubi, he discovered the world of Gaia and decided it was well worth his time to study it. His ambitions are endless, his powers bordering on the infinite. His madness, certainly, knows few bounds. He is also in love. Never one to be deterred, he'll kill, maim, or otherwise destroy anything that gets between him and his beloved.

If you want to know more about him, you will have to track him down and talk to him face-to-face. Be warned, however, getting involved with the likes of Lezard Valeth can open all sorts of avenues to danger. He is the very person your parents warned you about.
Signature