Leszi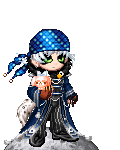 Last Login: 08/03/2015 5:21 pm
Registered: 03/01/2005
Gender: Male
Location: why, i'm right here of course!
Birthday: 12/03/1984
Occupation: student
About
'Ello! this is the Leszi speakin' to you from INSIDE YOUR MIND!!! -oh, hold on..

what? whadiya mean they stopped us from broadcasting?! how are we ever gonna take over the wo- what? i'm still on?! HOLY CARPS!!

ERR, UM.... I... hmm... well it seems our planned, err, entertainment for this evening has been slightly modified so i guess i'll say something about myself, ne?

Firstly and number 1...ly... my name.
I've been using this name on many different sites for a long time now, and a lot of people have made... interesting comments and mispronunciations about it, so i thought i'd clarify a bit. It's pronounced "Le-shii" and if it was written would have a lil' crench-thingy above the "z". The name itself has a dual purpose... it relates back to A: my heritage, and B: my interests. How many names do that, eh? "Leszi" is derrived from the Slavic diety of the woods by the same name, so, it shows my ethnicity (slavic, specifically Carpathian) and one of my hobbies (mythology [and cultural studies]) and there you have it. The origin of my name. ...so there.... that's enough for now, methinks!

Which FF Character Are You?
(second and third were rikku and terra...)